Haircut Styles present Layered Hairstyles
The term layered hairstyles is often confused by hairstylists themselves. Layering as a term means that there are variable lengths of hair throughout the haircut of a person. This means that some strands can be cut short, while others can be cut medium length yet others can be very long. Layering is most often done to enhance the features and give a distinctive edge to a hairstyle. It creates an image of volume for many people where actually the hair might be quite thin and limp.
Layered Hairstyle
In fact hair layering is often done for models that are walking the ramp, for lots of award winning hairstyle shows and by many hair stylists' gurus. A lot of celebrities also use the technique of hair layering to their advantage. Some like Rihanna can almost style their own hair. When coloring is added to layering of the hairstyles, it can create quite stunning and great effects.
Layered Hairstyle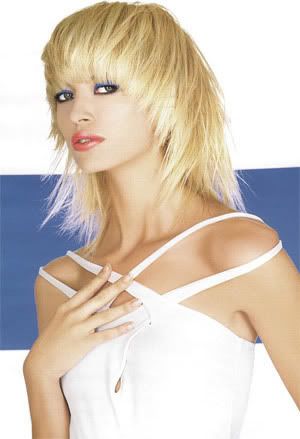 Layering can be done in many ways. Usually the individual strands of hair are lifted from the head at different angles than the natural pattern of the hair growth. This hair is then cut at many different lengths.