What sunglasses are you going to wear for 2008?
Sunglasses usually come along with hot hairstyle, so today we'll present Sunglasses Trends for year 2008.
Situation in Sunglasses trends is different then in hair or clothing trends, in fact there won't be many changes in a sunglasses trends for 2008. Trends are mostly the same as were in past few years, which means that 2008 oversized sunglasses are still very popular.
The facts is that oversized sunglasses will become unpopular sometime, but this definitely won't happen in a near future.2008 Sunglasses trend is going to be oversized dark frames in the style of 70's and 80's power frames. You simply got to love them, because you can have so much fun with this look, it's chic and sexy, plus oversized sunglasses also hide morning after effects!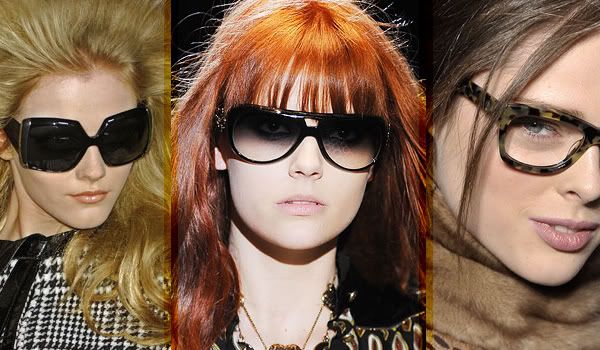 Bellow LOUIS VUITTON SUNGLASSES 2008

The Gucci 2008 sunglasses collection is both classic and sleek while always remaining contemporary in feel. The collection features unmistakable design while maintaining the perfect balance between casual and chic.

Christian Dior Sunglasses simply known as Dior are the ultimate fashion accessory for nearly every fashion babe. The styling of all Dior Sunglasses are fantastic. The Dior Homme - Man collection are rarely missed by males with a keen eye for fashion.